Special News from GreetingsForever.com
All you want to say with Animated eCards in English, Spanish and Portuguese.
https://www.greetingsforever.com
Merry Christmas! - Season's Greetings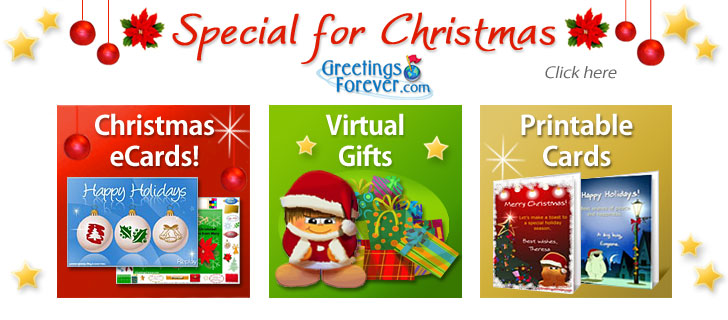 Create and send your Christmas eCards!
Find out the new Christmas eGreetings! Send eCards to 25 recipients at a time.
Click on the link below or copy and paste it into your browser:
https://greetingsforever.tuparada.com/ecards/christmas-544-1-520,544.html
Printable Cards:
In this section you will find cards for you to print at home and give to someone
anytime. Christmas, Birthday, friendship, love and special dates cards. You can personalize
them to your liking, by replacing the names or changing the message.
Try printing your personalized card now, it's easy.
https://greetingsforever.tuparada.com/printable-cards/
Virtual Gifts!
In this section you can find virtual gifts. You can add them to your Favorites,
eMail them to your contacts or add them to your MSN.
Virtual Gifts
______________________________________________________________________________________
You can win an iPad!
Join now!
It's very simple:
1. Join the premium club or renew your membership.
2. Get immediate access to all the premium cards and sections.
3. 1 year of special benefits.
4. The draw will take place on March 14, 2011, in the presence of a notary public.
You can win an iPad!
The iPad is designed by Apple, with touch screen and access to entertainment apps like movies,
music and videogames. You can also read your e-books easily.
If you had already signed up for free, login with your e-mail and password, and make your
payment for a premium membership to enter the contest.
Click on this link to join:
https://greetingsforever.tuparada.com/reguser.aspx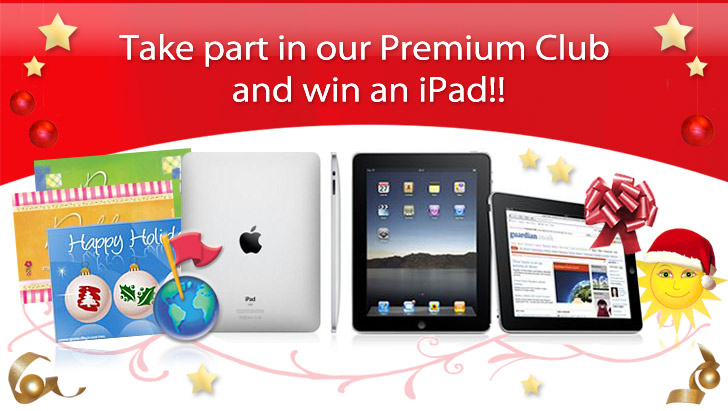 ______________________________________________________________________________________

Surprise your friends and relatives with the new
messages and designs.
Click on the following links:

https://greetingsforever.tuparada.com/ecards/


Birthday:
You can personalize birthday cards and schedule
them to be sent on a later date.

https://greetingsforever.tuparada.com/ecards/birthday-538-1-520,538.html


Love eCards:
You will find romantic ecards for countless occasions.

https://greetingsforever.tuparada.com/ecards/love-539-1-539.html


The meaning of names:
Find out the origin and interesting details of names.

https://greetingsforever.tuparada.com/names/


______________________________________________________________________________________

Reminders and Address Book Service

Start enjoying our Reminders and Address Book Service.
You will never forget any important dates or your loved ones´ birthdays!

https://greetingsforever.tuparada.com/reminders/



Find out our free and premium services:

Awesome colorful eCards - Animated virtual books - The meaning of names - Your initials
Wallpapers - Games - 3D Animations - Surprise envelopes - Reminders - Address Book
Flowers eCards and many more sections.

https://greetingsforever.tuparada.com/ecards/


We hope you'll enjoy visiting our site!

Kind regards

GreetingsForever.com staff
https://www.greetingsforever.com/
A place to stay